M-9000 PORTABLE COMBUSTION ANALYZER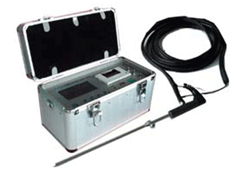 OVERVIEW

M-9000 Combustion Analyzer is a type of new-generation flue (stack) gas analyzer, which is small, light, portable and is specially used to quickly and simultaneously measure many components of combustion in flue gas, including flue gas temperature(T), oxygen(O2), carbon monoxide(CO), sulphur dioxide(SO2), nitric oxide(NO), nitrogen dioxide(NO2), micro-pressure (⊿P) etc. And also it can automatically calculate CO2, NOX content, flue excess air and losses(α), combustion efficiency (η). With RS232 communication interface, it can be connected to computer to realize bi-directional communication.
FEATURES

Long-life, maintenance-free, high-accurate electro-chemical gas sensors
With a strong suction pump inside case, pressure/draft above 1000mmH2O
Measures flue gas and inlet temperatures simultaneously.
Big LCD display, English or Chinese menu, with automatic diagnosis working status
Automatic memory measured data , with 250 groups of the measured data
Built-in printer ,can print out the measured data or privious stored data
Built-in rechargeable battery, about 4 hours of continuous use on a single charge
With upper or lower limit alarm message display on LCD
With RS232 interface for measured data communication
SPECIFICATIONS

measured:Flue Temperature(T),Oxygen (O2), Carbon monoxide (CO)
Nitric oxide ,(NO)Nitrogen dioxide (NO2),Sulphur dioxide (SO2)
calculated:Micro-pressure (⊿P),Nitrogen oxide(NOx)
Carbon dioxide (CO2) ,excess air and losses(α)